Mac computers are a popular choice because they are so easy to use. But what if you have a PC and need an alternative to iMovie? This article lists the top alternatives for Windows that you can download for free and use to create, edit, or upload your film. You can also download and install iMovie on Windows for free.
Note: Most websites claim that you can install iMovie on Windows by without installing macOS, however this is all a scam because Apple never published it for Windows users, so how can all of those video editors be phony and copied? Install MacOS on your PC if you want to try it out.
How to Download and Install iMovie on Windows PC
iMovie video editor is not designed for Windows users it was developed for the macOS platform only, so it you want to install it on your desktop then you have to download and Install macOS on your PC.
Download Any macOS Edition for Windows
Ventura 13
Monterey 12
Big Sur 11
Catalina 10.15
Mojave 10.14
High Sierra 10.13
Step 1: Install macOS on your PC (Watch Complete Video)
Step 2: Once you installed macOS on your PC go to the App Store
Step 3: Create an Apple ID
Step 4: Login ID
Step 5: Search iMovie and click on "Get" button to download
By following these methods you can install the official version of iMovie on your Windows 11 or 10.
Best iMovie Alternatives for Windows
If you're looking for the best alternatives to iMovie for Windows, you've come to the right place. Here are the top three picks for video editing software that will get the job done, whether you're a beginner or a pro.
Adobe Premiere Pro: A powerhouse of a video editor, Adobe Premiere Pro is a favorite among professionals. It has all the features you could possibly want in a video editor, plus more. If you're willing to pay for the premium version, you'll get even more features and capabilities.
HitFilm Express: This video editor is a great option for those who want professional-level features but don't want to break the bank. HitFilm Express has all the basics covered, plus some handy extras like greenscreen support and built-in effects.
Lightworks: Lightworks is another excellent option for professional video editors. It's packed with features and offers excellent performance. The only downside is that it's not as user-friendly as some of the other options on this list.
Windows Movie Maker
If you're a Windows user, your options for video editing software are a bit more limited than if you're on a Mac. However, there are still some great options available, one of which is Windows Movie Maker.
The Windows Movie Maker software is a no-cost addition to any PC running Windows. Simple, but effective, and user-friendly. You may use it to make films from scratch, modify existing ones, add transitions and effects, and then save the project in a wide range of file types.
If you're looking for something more powerful than Windows Movie Maker, there are a few paid options available. However, these can be quite expensive, so if you're on a budget, Windows Movie Maker is a great option.
Sony Vegas Pro
If you're looking for a powerful video editor for Windows that can compete with iMovie, then Sony Vegas Pro is definitely worth considering. Vegas Pro has been around for many years and is a favorite among professional video editors. It's packed with features and has a very user-friendly interface.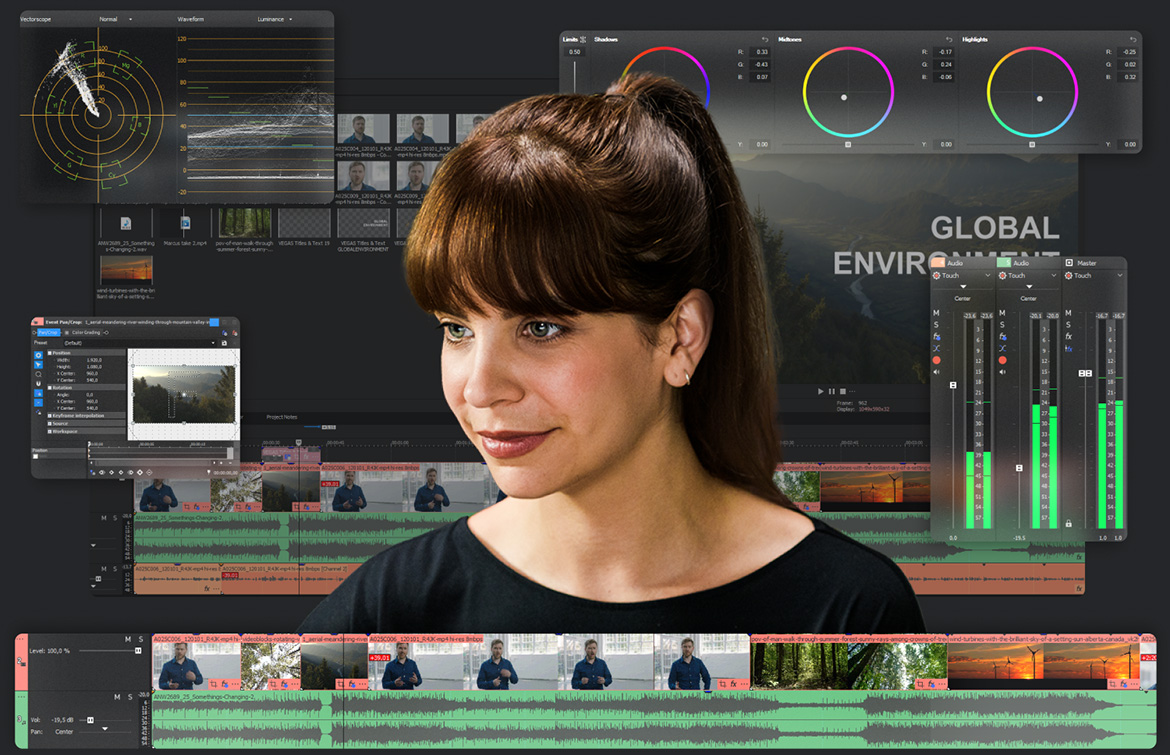 VEGAS Pro 14 Edit – Professional Video and Audio Editing
The most obvious competitor to iMovie on Windows is Sony Vegas Pro. It's been around for years, it's packed with features, and it has a user-friendly interface that even newbies can get to grips with quickly.
Vegas Pro 14 comes with support for 4K and 360-degree VR content, meaning that you can create truly immersive videos that will wow your viewers. There's also an extensive audio editing suite included, which gives you plenty of options for giving your videos the perfect soundtrack.
One of the best things about Vegas Pro is that it's constantly being updated with new features and improvements. So, even if you're using an older version, you'll still be able to take advantage of the latest advances in video editing technology.
Also Try: Edius Pro 7 Free Download
Adobe Premiere Pro
Adobe Premiere Pro is a timeline-based video editing app developed by Adobe Systems and published as part of the Adobe Creative Cloud licensing program. Premiere Pro is widely considered to be one of the best video editing programs available today. It offers an expansive set of features, including advanced color correction, audio mixing, and multi-cam editing.
Premiere Pro also supports a wide range of input and output formats, making it easy to work with footage from a variety of sources. And thanks to its integration with other Adobe Creative Cloud apps, you can easily share your projects with colleagues or clients and take advantage of powerful creative tools across the entire Adobe ecosystem.
Final Cut Pro
If you're a Mac user, then you're probably familiar with iMovie. It's a great video editing program that comes pre-installed on all new Macs. However, if you're using a Windows PC, then you'll need to find an alternative to iMovie.
There are plenty of great video editing programs for Windows, but our favorite is Final Cut Pro. It's a professional-grade video editor that's used by many Hollywood filmmakers.
Final Cut Pro has all the features you need to create amazing videos. It supports 4K resolution and 60fps footage, so you can create beautiful cinematic videos. It also has a simple interface that's easy to use, even for beginners.
If you're looking for a powerful and professional video editor for Windows, then we highly recommend Final Cut Pro.
Lightworks
Lightworks is a professional video editing software that is available for free. It has all the features that you would expect from a paid video editor, and it is regularly updated with new features. Lightworks is a great alternative to iMovie for Windows users.
Lightworks Features :
Unlimited video and audio tracks
Support for all popular video formats
Camtasia Video Editor
The Windows version of Camtasia is a robust video editor that makes it simple to produce high-quality videos. Since the UI is so simple and straightforward, it's perfect for newcomers. Any video or audio file from your computer, webcam, or microphone can be imported. With Camtasia, you can effortlessly record your screen and incorporate it into your videos thanks to the integrated screen recorder. Camtasia is an excellent all-around video editor that can be used to make any kind of video, from tutorials to product demos and beyond.
Camtasia features a robust video editor that is perfect for creating instructional videos, product demos, and more.
The user interface is very intuitive and easy to use, making it a great choice for beginners.
Camtasia also comes with a built-in screen recorder, so you can easily record your screen and add it to your video projects.
Overall, Camtasia is a great all-around video editor that is perfect for creating instructional videos, product demos, and more.
CapCut Video Editor
CapCut is a powerful and easy-to-use video editing tool that enables you to create amazing videos with just a few taps. With its intuitive interface, CapCut makes it easy to trim, split, merge, and crop your video footage, as well as add filters, text, music, and more. You can also use CapCut to create GIFs and convert video files to other formats.
Key Features of CapCut
Intuitive and easy-to-use interface
Trim, split, merge, and crop video footage
Add filters, text, music, and more
Create GIFs and convert video files to other formats
Support for multiple languages
We hope this guide helped you in downloading and installing iMovie for free on your Windows PC. You can also try these great alternative video editors for your editing work.
Also Read: